To counter a disjointed shopping experience while supporting several customer archetypes, expectations and entry points we sought a point of commonality by proposing that travelers come to marriott.com in one of two basic modes. Go Mode (ready to purchase and seeking reduced friction) or Flow Mode (interested in traveling but open to when, where and seeking traction for inspiration). With the Covid-19 driven drop in business travel Marriott needed to connect with leisure travelers in a way that would tap into the swelling 'revenge travel' mindset and answer the prevailing question "How to get the most out of what may be rare and limited opportunities to travel?"
I helped create the direction and storytelling arch for the pitch and supported the team in creating the logic, hypotheses, persuasive arguments and ultimately rolled up my sleeves and designed a series of wireframes for user testing, to generate the insights needed to crystalize the way forward.
Marriott International
Home Page, Loyalty, Room Booking and more
Publicis Sapient
Group Creative Direction / Mark Wagner
Creative Direction / Todd Zerger
Design / Nadia Shen + Kelly Xie
UX / Zoey Zou + Andy Kajmowics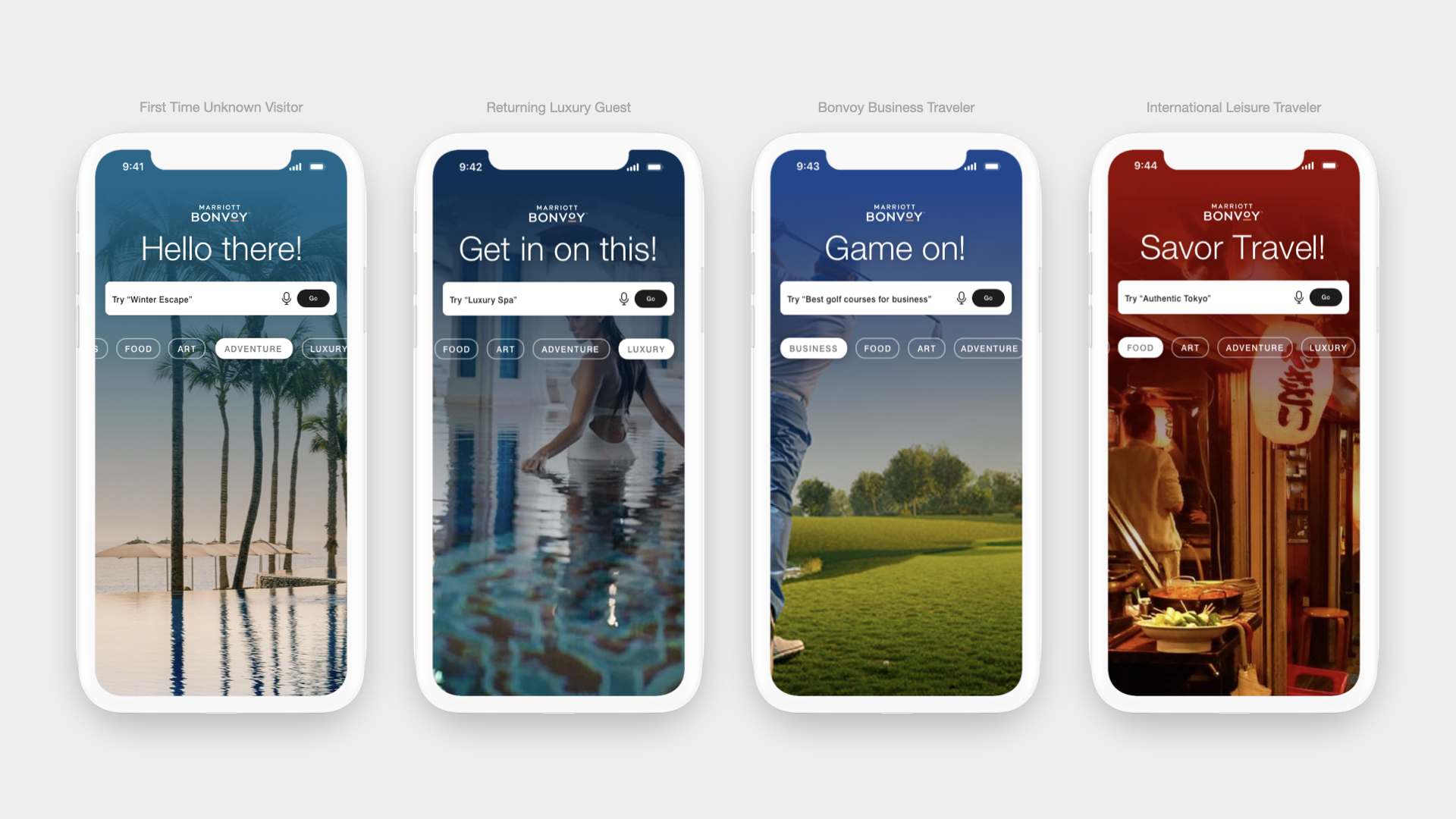 Creative Direction and Experience Design
The Journey Before the Journey
To tap into the excitement and full potential of travel and support consumers for whom the many options can quickly become overwhelming, we explored a "trip builder" that could follow along with each consumers interests as indicated by browsing behavior, to shape a trip that includes activities and incentives as well as the date and location information needed to generate rates.
Creative Direction and Experience Design
Process
Moving quickly during the pitch included team crazy 8 sketching exercises before jumping into Sketch. I'm a fan of collaborating out in the open so we used Mural to catalog existing features, prioritize them by archetype, and connect inputs (including client brief, strategic hypotheses, and available research and analytics) to the evolving wireframes to help our stakeholders appreciate the logic of progress.
Further hypothesizing that customers seeking to book will have different expectations based on where their journey started (a luxury brand site like Ritz Carlton versus a location-based search on Google for instance) we built a mental model to help the organization consider the implications of disaggregating the booking criteria so they could be compiled in a sequence that best suited the travelers mode and entry point. In this way a traveler interested in a resort vacation but flexible in terms of location and time frame is not forced to start with city and dates as in the current paradigm. This helped me create high-fidelity wireframes that threw the needs of each archetype into sharp relief to make customer feedback more actionable.
"Super different, I've never seen anything like this when searching for hotels…I don't really know how to describe it… it's like Prada; if a luxury purse were to have a website, it would look like this"
– Nikki on Luxury Prototype